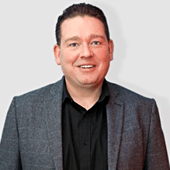 Craig Johnson
Chief Executive Officer
Craig has been involved in digital publishing and online marketing since 1996 and has significant experience across all elements of digital, search and social media. 
He is an accomplished leader with experience achieving success in forming teams, managing staff, coaching individuals and improving business results. 
Craig has been successful in a number of roles and projects for agencies, setting business development strategies for agencies, delivering significant growth in line with ambitious business plans through leading by example, forging commercial deals in the digital sector around web site design and development services, advertising sales, online marketing services and affiliate marketing.